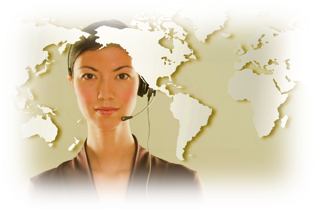 Cultural Intelligence (CQ™):
the nr 1 predictor of your success in the borderless world

Globalization is lunging forward with racing speed. Businesses of all sizes are crossing international borders to compete. The workforce is becoming increasingly diverse. And all indicators suggest these trends will continue for the next several decades.
Some ten years ago, working internationally was a prerogative of large companies and highest officials. Look around now - cultural diversity is right here, at your workplace and in your neighbourhood. The world has moved from monocultural to multicultural. Whether we like it or not - we have to keep up with it!
Cultural intelligence (CQ™) is the capability to function effectively across national, ethnic, and organizational cultures.
In today's multicultural world, it becomes a critical individual capability that enhances personal performance and facilitates interpersonal interactions. Ultimately, it impacts the organization's effectiveness across cultural borders. It also creates opportunities for us human beings to understand each other better and live in peace with each other.
And it's a capability anyone can develop!
70% The number of international ventures that fail due to cultural differences

60% The amount of growth General Electric calculates will come from their
development world revenues

$700,000 The first year expense of relocating an expat, many of whom fail

90% The number of leading executives from 68 countries who named multi- cultural
leadership as their top management challenge
What's the difference between individuals and organisations that succeed
in today's globalized, multicultural world and those that fail?
CQ is the capability to function effectively in a variety of national, ethnic, and organizational cultures. It is similar to IQ and EQ in that it measures a set of capabilities necessary to be successful, both personally and professionally. But CQ is unique because it focuses specifically upon the skills and capabilities needed to succeed internationally and in multicultural domestic contexts.

CQ is a resource for handling the challenges that internationalization of business comes with, such as

• Managing cross-border ventures
• Managing a foreign subsidiary
• Work with own and independent dealerships abroad
• Integration processes with M&A
• Managing cultural diversity at a workplace
We also provide education and training of expatriate managers with cross-border relocation.
CQ is also a catalyzer of the leaders' mindset development - intelligent inquiry in the person's cross-cultural experiences strengthens the mind's agility and increases its capacity. Like other capabilities, CQ develops with experience and practice; its development can be aided.
Individuals and organizations that assess and develop CQ are experiencing many important outcomes, including:

• More effective cross-cultural adjustment
• Enhanced job performance
• Improved personal wellbeing
• Profitability, Cost-Savings, and Efficiency
Intelligent Mindsets offers the only evidence-based and validated CQ assessments in the world. With this as a base, we will design your personal CQ development plan.
The following assessments are available:

• CQ Multi-Rater Assessment™ (360°)
• CQ Self-Assessment™
• Individual Cultural Values Inventory

Additional CQ assessments available for classroom use, study abroad, and short-term missions.

Back to Startpage To CQ Assessments™
© 2014 Cultural Intelligence Center, LLC. All rights reserved. CQ™ and CQ Assessments is a product of the Cultural Intelligence Center, LLC.